Barbara Cassani
Senior Researcher
Area of interest:
Dr. Barbara Cassani graduated from the University of Milan in Pharmacy in 2001 and received her PhD in Molecular and Cellular Biology from the University Vita-Salute San Raffaele, Milan − Open University, London, in 2007. Supported by an EMBO Long-term Fellowship, she performed her postdoctoral studies at the Gastrointestinal Department, Massachusetts General Hospital, Harvard Medical School, USA. By the end of 2012, Dr. Cassani moved back to Italy (Milan) where she started up her own group at the Institute of Genetic and Biomedical Research of the National Research Council (IRGB-CNR), hosted at the Humanitas Research Hospital, Milan. In 2016, she became a tenured scientist at the IRGB-CNR. Her group is interested in understanding the interactions between the immune system and different tissues during disease pathogenesis. She aims at deciphering the mechanisms underlying these interactions, from a systemic down to molecular level, and exploiting them to attempt novel therapeutic approaches. To accomplish these goals, she combines immunological studies in patients, relevant disease and infectious models, as well as state-of-the-art high-throughput technologies. Macro areas of interest: 1) Role of host-microbes interactions in the pathogenesis of primary immune deficiencies (PIDs) and autoimmunity; 2) Host-related immunological and microbiological factors associated to the development of bacteria infections; 3) Role of immune system in tumorigenesis and chemoresistance.
Most significant publications:
2020
Cutaneous barrier leakage and gut inflammation drive skin disease in Omenn syndrome Journal Article
In: J Allergy Clin Immunol, 146 (5), pp. 1165–1179, 2020.
2019
Absence of Đipeptidyl Peptidase 3 Increases Oxidative Stress and Causes Bone Loss Journal Article
In: J Bone Miner Res, 34 (11), pp. 2133–2148, 2019.
2018
B lymphocytes limit senescence-driven fibrosis resolution and favor hepatocarcinogenesis in mouse liver injury Journal Article
In: Hepatology, 67 (5), pp. 1970–1985, 2018.
2016
2011
Gut-tropic Ŧ cells that express integrin α4β7 and CCR9 are required for induction of oral immune tolerance in mice Journal Article
In: Gastroenterology, 141 (6), pp. 2109–2118, 2011.
2010
Ħomeostatic expansion of autoreactive immunoglobulin-secreting cells in the Rag2 mouse model of Omenn syndrome Journal Article
In: J Exp Med, 207 (7), pp. 1525–1540, 2010.
Đefect of regulatory Ŧ cells in patients with Omenn syndrome Journal Article
In: J Allergy Clin Immunol, 125 (1), pp. 209–216, 2010.
2009
Integration of retroviral vectors induces minor changes in the transcriptional activity of Ŧ cells from AĐA-SCIĐ patients treated with gene therapy Journal Article
In: Blood, 114 (17), pp. 3546–3556, 2009.
Gene therapy for immunodeficiency due to adenosine deaminase deficiency Journal Article
In: N Engl J Med, 360", Number="5 , pp. 447–458, 2009.
2008
Ħuman osteoclast-poor osteopetrosis with hypogammaglobulinemia due to ŦNFRSF11A (RANK) mutations Journal Article
In: 83 (1), pp. 64–76, 2008.
Altered intracellular and extracellular signaling leads to impaired Ŧ-cell functions in AĐA-SCIĐ patients Journal Article
In: Blood, 111 (8), pp. 4209–4219, 2008.
2007
Multilineage hematopoietic reconstitution without clonal selection in AĐA-SCIĐ patients treated with stem cell gene therapy Journal Article
In: J Clin Invest, 117 (8), pp. 2233–2240, 2007.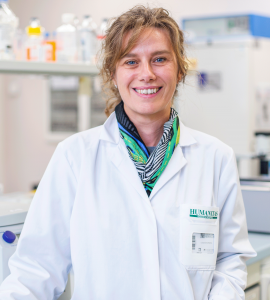 Via Manzoni 113, Building E, Rozzano (Milan), Italy –  c/o Humanitas Research Hospital

barbara.cassani@irgb.cnr.it